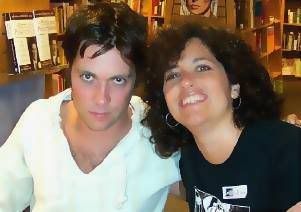 Poor Rufus. The things he has to endure. Straight women. Fag hags...!
This photo was taken in October (?) 2003.
I met my dear, sweet, lovely friend (who is half my age) LAURA that day. I dragged her into the line to meet Rufus after his short performance at Borders in Westwood, (LA) and made her meet Rufus with me. (I can be a little bossy that way! "You WILL be my friend, damnit! I
WILL NOT
be bored!"). She was taken aback a bit by my, um enthusiasm. I won't tell you what I brought as a gift for him, but, seriously, it bordered on psychotic! She's going to spill the beans I know she will.
Oh Lord help me.
Please don't embarass me Laura.
I should have never have brought it up...